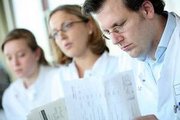 Our departement is a centre for the diagnosis, treatment and scientific investigation of urological cancers. Special areas of focus at the departement are treatment and counselling for patients with prostate cancer, kidney cancer, bladder cancer and testicular cancer. In cooperation with radiotherapists, internal oncologists and pain specialists we ensure optimal care and give you highly competent advice concerning all therapy alternatives. Working together with you, we work out a personal therapy plan. In addition to inpatient treatment you can take advantage of our general outpatient consultation hours, as well as the special consultation hours for tumour patients, to obtain advice and to receive outpatient care.
Within the framework of surgical tumour treatment, we provide almost all therapeutic procedures. In particular, the following areas of focus have become established in our departement:
open and laparoscopic radical prostatectomy (also with the sparing of the nerve)
radical cystoprostatectomy (removal of the prostate gland and the bladder) including continent and incontinent urinary diversion techniques (urostomy, umbilical pouch, neobladder)
open and laparoscopic retroperitoneal lymphadenectomy and residual tumour resection
open and laparoscopic radical nephrectomy for a tumour
organ-preserving kidney tumour enucleation / partial nephrectomy
open and laparoscopic nephroureterectomy
open and laparoscopic operations on the adrenal gland
interdisciplinary tumour surgery together with all other specialized disciplines at UKM, specifically suited to the treatment necessary for each individual patient
In addition to surgical treatment, we offer many different forms of chemotherapy and radiotherapy in cooperation with the Oncology Department of Medical Clinic A and with the Radiation Therapy Unit at UKM. These we adapt to the needs of each individual patient in interdisciplinary tumour conferences so as to be able to provide the best possible therapy.
THULIUM OR HOLMIUM LASER ENUCLEATION OF THE PROSTATE GLAND
Laser enucleation of the prostate (TULP) is one of the minimally invasive transurethral (i.e. using endoscopic imaging through the urethra) surgical procedures for the treatment of benign prostate hyperplasia, which also includes classic transurethral resection of the prostate (TUR-P) with a hot sling or various surgical techniques that merely "vaporize tissue" (laser vaporization, TURIS, etc.). In TULP, on the other hand, the entire enlarged prostate gland, which is responsible for the obstructive symptoms during urination (delayed urination, reduced urine flow, prolonged time for urination, residual urine formation, overflow bladder, urinary retention), is normally removed by minimally invasive surgery. In contrast to procedures in which only part of the prostate gland is removed (TUR-P, laser vaporization of the prostate, TURIS, etc.), a recurrence (return of the symptoms) is therefore extremely unlikely.
More information about the treatment
DIAGNOSIS AND TREATMENT OF UROLITHIASIS
Kidney stones are deposits formed by components of urine. They arise from the precipitation of substances which are normally dissolved in the urine. Not only nutrition and fluid intake, but also urinary tract infections and various metabolic diseases play a significant role in the formation of the stones. Stones frequently remain unnoticed or are discovered only by chance within the framework of a routine examination. But kidney stones may also lead to the occurrence of renal colic, which is characterized by severe pain in the area of the back, side or lower abdomen. In most cases a kidney stone passes by itself with the urine through excretion. If such a spontaneous passage does not occur, then various forms of kidney stone therapy can be considered.
Extracorporeal shockwave lithotripsy makes it possible to destroy the stones in a way that is gentle on patients. In most cases no anaesthesia is required here. Furthermore, we offer all the possibilities of ureterorenoscopy (rigid and flexible instruments) and laser lithotripsy in addition to percutaneous nephrolithotomy (PCNL) and open kidney stone surgery, which is only performed rarely nowadays.
REPRODUCTIVE MEDICINE / ANDROLOGY
Andrology includes all the areas of medicine and the natural sciences which deal with the reproductive functions of men under normal and pathological conditions. Consequently, it is the science of the reproductive functions and dysfunctions of men in all of life's stages.
In close cooperation with the Centre for Reproductive Medicine and Andrology – Clinical Andrology – (Chief Physician Prof. Sabine Kliesch, MD), we offer a wide range of diagnostics and therapy. Our repertoire includes the following:
sterilizations
operations for refertilization after sterilization (e.g. vasovasostomy)
diagnosis and therapy in the case of male infertility
testicular biopsies for the collection of sperm
cryopreservation of sperm
diagnosis and therapy in the case of erection disturbances
implantation of hydraulic penile prostheses
diagnosis of hypogonadism
testosterone substitution
PAEDIATRIC UROLOGY
Paediatric urology is concerned with congenital and acquired disorders of the urological organs in childhood. We offer special consultation hours for paediatric urology, during which you can bring in your child as an outpatient. We conduct the necessary examinations here and give you detailed advice. Together with the Paediatric Departement , there is also a competence network made up of paediatric urologists, nephrologists and radiologists which is available to you. If your child needs an operation, we can often perform it as outpatient surgery. If treatment as an inpatient is necessary, children do not, of course, have to stay in the hospital all by themselves. If they wish, mothers or fathers can be admitted to our paediatric unit together with their child.
INCONTINENCE
The involuntary loss of urine is a widespread disorder, with both men and women being affected. With advancing age the frequency of involuntary urine loss increases in people. Unfortunately, this illness is still something people often prefer not to talk about. The quality of life of those affected is considerably restricted. It is therefore important that urinary incontinence should be examined and treated.
We distinguish between several forms of urinary incontinence which can occasionally occur together. In addition to a detailed consultation, we must therefore carry out some examinations in order to make a diagnosis and initiate the correct treatment. Uroflowmetry, all forms of radiological diagnostics, urodynamic procedures and cystoscopy are all available for this,
DIAGNOSIS AND TREATMENT OF KIDNEY DISEASES
The causes of a reduction in renal function are diverse. They range from inherited diseases, metabolic disorders, high blood pressure, and diseases of the immune system to chronic inflammations of the kidneys and diseases and malformations in the area of the urinary tract. Through our close cooperation with the Nephrological Department of Medical Departement D at UKM, we offer you extensive possibilities for diagnosis and a treatment that is optimally suited to the causes of the kidney disease.
ENDOSCOPY
Contemporary urology is inconceivable without the diagnostic and therapeutic procedures of modern endoscopy. Our departement has modern endoscopes available that permit a gentle endoscopy of the urinary tract. Endoscopy is a procedure for examining the urethra, bladder, ureter and renal pelvis. Thanks to this technique it is possible to make the interior of the body visible. The doctor can thus recognize even the smallest of mucosal changes, tumours and foreign bodies. The endoscopic examination of the ureter and renal pelvis requires extremely thin, high-quality endoscopes. With the help of these instruments the ureter and renal-pelvicalyceal system with its branches can be observed gently. The examination is always performed under general anaesthesia in the context of a – usually brief – stay in hospital. Stones can be crushed with the aid of a laser.

In addition to diagnosis and the treatment of stones, bladder tumours can be endoscopically removed, strictures of the urethra can be dilated, and prostate tissue can be excised.
MINIMALLY INVASIVE LAPAROSCOPIC OPERATIONS
Minimally invasive techniques are used in our clinic more and more frequently. We can offer patients laparoscopic surgical procedures above all for prostate cancer (radical laparoscopic prostatectomy) and renal and adrenal diseases, such as kidney tumours, kidney cysts, cirrhosis of the kidneys, and adrenal tumours (laparoscopic nephrectomy, laparoscopic adrenalectomy, removal of kidney cysts, etc.). The main advantage of laparoscopy is that it is a gentle surgical procedure which can be performed safely under excellent visibility (high-definition, digital 3-chip camera optical system) with little blood loss. As a result of this, patients normally develop only minimal postoperative wound pain so that they can be remobilized more quickly and, for the most part, also discharged earlier from inpatient treatment.
PLASTIC RECONSTRUCTIVE OPERATIONS ON THE KIDNEY, URINARY TRACT, AND BLADDER
This concerns operations on the urogenital organs, which are necessary in the case of certain diseases in order to reacquire a normal anatomy or normal organ function. The following is a brief list of the most important reconstructive procedures:
circumcisions in cases of phimoses
varicocelectomy/ hydrocelectomy
orchidolysis and orchidopexy for cryptorchidism
meatoplasties
urethroplasty using oral mucosa grafts
pyeloplasty
new implantation or replacement of the ureter (psoas hitch, Boari flaps, intestinal interposition)
antireflux operation for ureteral reflux
continent urinary reconstruction with preservation of the urethra (neobladder)
continent urinary reconstruction with drainage at the umbilicus (Mainz pouch I) and drainage through the rectum (Mainz pouch II)
augmentation cystoplasty
incontinent urinary diversion (ileal conduit)
microsurgical vasovasostomy when refertilization is desired after sterilization
prosthetic surgery (artificial bladder sphincter and corpus cavernosum implant devices)
SPECIAL CONSULTATION HOURS
For optimal care we have special consultation hours in our clinic for patients with questions relating to the following topics:
kidney tumours
paediatric urology
prostate gland
erection disturbances
continence
andrology and testicular tumours
bladder tumours